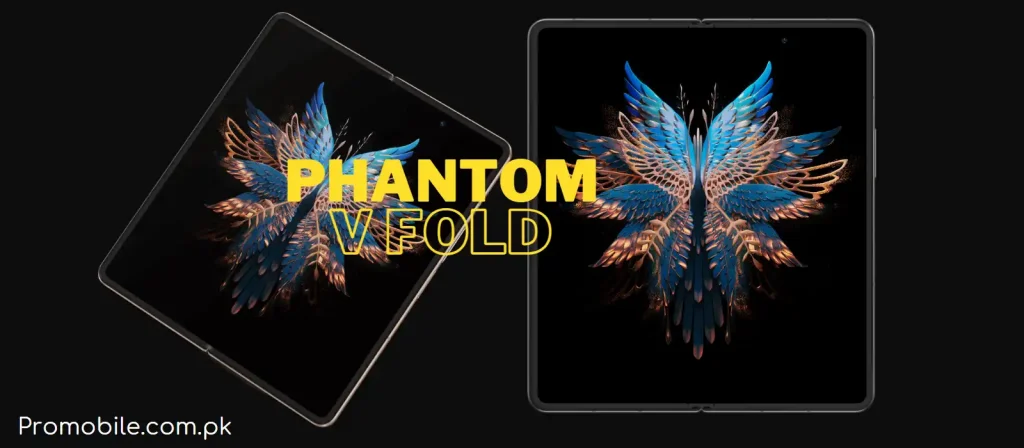 Tecno Phantom V fold News. Image by: Tecno Products
Tecno Phantom V fold News.
The Tecno Phantom V Fold is a cutting-edge technological marvel that is sure to impress smartphone enthusiasts. As the first foldable phone by Tecno, it packs a range of features that make it stand out from other smartphones on the market. Notably, the Tecno Phantom V Fold is an affordable foldable smartphone that offers exceptional value for money. The mobile boasts a spacious 7.6-inch foldable dynamic AMOLED 2X capacitive touchscreen display, which is designed to provide users with a truly immersive experience.
The screen supports a FHD+ resolution of 1768 x 2208 pixels, making it perfect for enjoying high-quality videos and images. Moreover, the screen is protected by Corning Gorilla Glass Victus, ensuring that it remains scratch and crack-free for an extended period. To make the smartphone more secure, Tecno Phantom V Fold is equipped with an under-display fingerprint sensor, which ensures that only authorized users can access the device.
Furthermore, it is rumored that the new Phantom V Fold will come with a Snapdragon 888 5G chipset, which is designed to deliver lightning-fast performance. Finally, the smartphone's battery capacity is 4400 mAh, which is capable of supporting 45W of fast charging, ensuring that users never run out of battery life while on the go. When it comes to price, the Tecno Phantom V Fold is expected to be priced at an affordable Rs. 78,999 in Pakistan.
Highlighted Features of Tecno Phantom V Fold
Dual 7.85″ Main Screen & 6.42″ Curved Secondary Screen
2K+ Screen Resolution
90% Screen-to-Body Ratio
 120 HZ Screen Refresh Rate
5 Lens Camera System – Ultra Clear
Mediatek dimensity 9000+ or Snapdragon 888 5G Flagship Chipset
50MP Main Camera Sensor
256/512GB UFS3.1 Internal Storage and 12GB LPDDR5X RAM
Secondary Screen for Image Preview
4400 or 5000mAH Battery – 45W Flash Charging
Side Mounted Fingerprint Sensor
Dual Stereo Speakers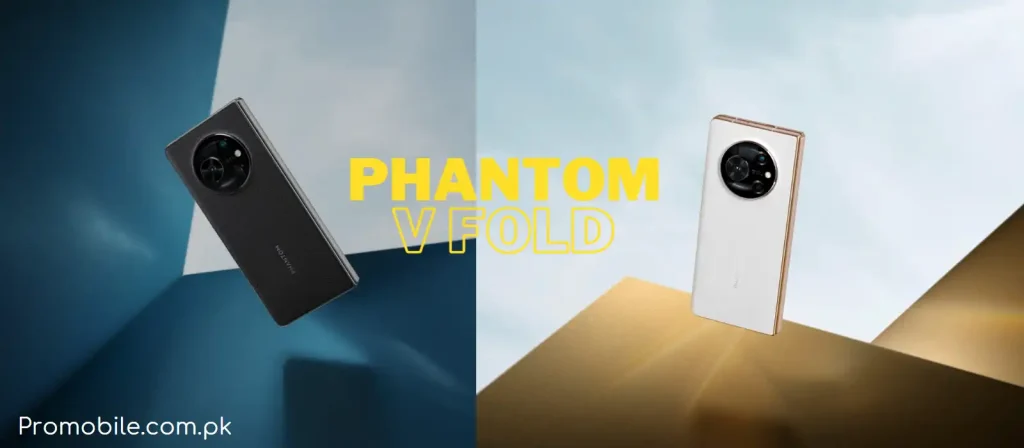 Phantom V Fold Multi-Color. Image by: Tecno Product
Expected Launch Date and Expected Price in Pakistan
The highly anticipated Tecno Phantom V Fold is set to make its debut in the smartphone market in June of 2023. The release of this new model has been eagerly awaited by tech enthusiasts around the world, who are anticipating the latest advancements in smartphone technology that Tecno has promised to bring with the Phantom V Fold. The company has been teasing features such as an improved camera system, longer battery life, and a sleek foldable design, all of which are expected to set this phone apart from its competitors. Despite its impressive capabilities, the Tecno Phantom V Fold is rumored to come with a price tag of approximately 78,999 Pakistani Rupees, making it a highly competitive option in the premium smartphone market. With its cutting-edge features and sleek design, the Tecno Phantom V Fold is sure to make waves in the smartphone industry and become a top contender for tech-savvy consumers who demand the best from their devices
Thank you for taking the time to read our article. We greatly appreciate your support. If you found the article helpful or enjoyable, we kindly ask you to share it with your friends. Your recommendation can help us reach a wider audience and provide valuable information to more people. We value your feedback, and if you feel that something is missing or have suggestions for improvement, we would love to hear from you. Please fill out the form provided, and we will do our utmost to enhance the quality of our content. Thank you once again.